Wood Waste Collection
Energy recovery
We offer a number of ways to collect and dispose of your wood waste. Wood is used in the energy recovery sector, all wood handled by CDDL is used for the manufacturing of electricity which is then feed back into the national grid.
Wood Waste Collection and Disposal
We can supply skips from 12 yard up to 40 yard and will empty these on either a scheduled basis or an as and when basis.
We can also collect wood in there very large vans, this can be the more economical way for most of their clients.
There are two main types of waste wood, A grade which can be 100% recycled, this is dependent on volume, and B/C grade wood, this is wood that has been used before, such as fencing, furniture and sheds etc.
Railway sleepers and telegraph poles are classified as hazardous waste and take a totally different route for disposal, high incineration under very strict rules, which leads to a much higher cost of disposal.
Types of wood waste
Waste wood is produced by various industries and is classed in 2 different ways, which affect the disposal costs.
Grade A wood, which is clean wood such as pallets can be fully recycled.
Grade B & C wood is dirty wood, such as fence panels or any wood that has been treated. Grade B & C wood is used for power generation in the CHP plants being built around the UK
Sleepers and telegraph poles are classed as Hazardous Waste Wood and are treated totally separate to grade A, B and C wood. 
Contact us with your waste wood enquiries
We will visit your site to view and enable us to grade the wood waste you produce, A Grade or B?C Grade.
We will quote and if accepted install the required containers for you to store the waste wood in until it is disposed of.
Can wood be landfilled?
No, wood is banned from landfill
How often can wood be recycled?
What happens to waste wood?
It is sued for energy recovery, generating electricity.
Want all your waste managed?
We have experience working with very small companies and helping them deal with their waste in the most economical manner up to handling the total waste streams form very large companies.
We work with our clients to create economical waste disposal, increase recycling rates and turn their waste streams into commodities. Learn more about our Total Waste Management Service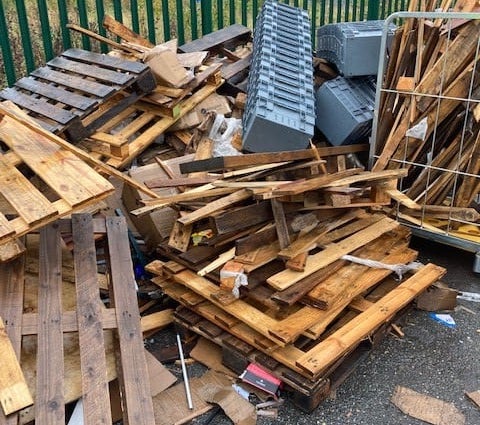 We pride ourselves on giving you the best service and advice for your waste, making sure that it doesn't end up in landfil and saves you money were possible.